HD PRO Plus – WiFi – Wireless Interface – APP
Install "FinalCam"
The app is compatible with both iOS and Android. For the purposes of this illustration, we will be following iOS, but the process is the same for Android.
iOS:
Browse in App Store
Android:
Browse in Play Store
Alternate Apps:
You can the apps below if you have issues with FinalCam, however we have seen stability issues with the apps below which caused the camera to freeze. FinalCam has worked without issue. If the camera freezes, please reset it by pressing the reset button with a pin or paper clip.
FNMultiCam FNNovatek
Turn on WiFi
Hold the "OK" button on the camera for a few seconds until you see the screen below. (Once you are finished, you should turn the WiFi Off by holding the same button again.)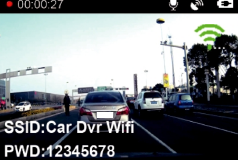 Connect Camera
Browse to your WiFi connections and find the camera, select it and enter the password displayed on the screen, most likely - "12345678"
Open FinalCam
You will be greeted with the screen below. Add the camera with the + sign at the top right. The camera should automatically recognize the camera and connect.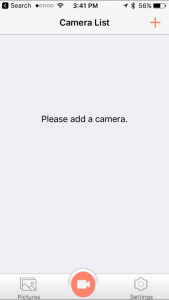 Once it connects you will be shown the screen below of the live feed.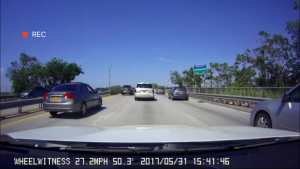 Touch the screen to bring the menu up. Press the "STOP" button to stop the recording. It is important to STOP the recording when making any changes in settings or transferring files.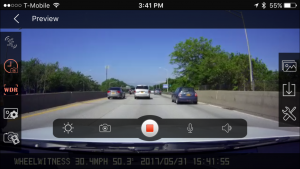 Reviewing Files, Transferring and Sharing
Make sure the camera is NOT recording by pressing the stop button in the middle.
Click the Download icon to your right with the number count (says 55 in screenshot below)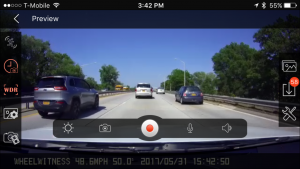 You will be presented with the following file list below. It may take a little while for the thumbnails to load.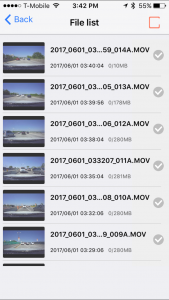 Select the files you want to transfer (we recommend starting with 1 at a time)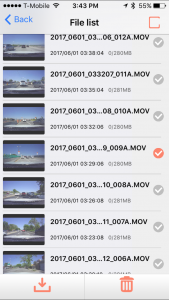 Once you select the file you want to Download, select the bottom left button to transfer it. You will see the progress of the transfer below.
Please keep in mind that transfer is slow due to it being an uncompressed high resolution file. (About 280MB / 3 minute file), may take  up to 3-5 minutes to transfer
After you transferred the file it will be stored inside the FinalCam app, you can click on it to play it in high resolution.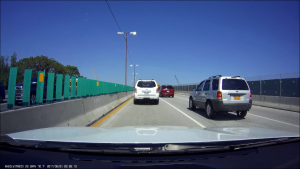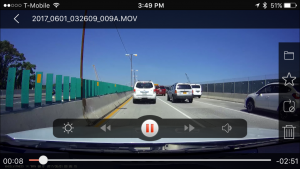 In order to Copy it to your Phone Album / Library, click on the Top Right Icon, which will save the video file into your Album. From there you can share it as you please.